Spread the Expenses
Racing can be expensive, but with partnerships, the expenses are spread over the group so that it is affordable for all. Expenses for a 10% ownership of a race horse in-training would cost about $120/month, about the price of a good dinner for two.

Ask yourself, would you rather have a nice dinner or get your picture taken in the winner's circle. If your horse can win once a year and finish second or third twice, everything will be paid for.

Partnerships now Opening !!!

We currently have several nice opportunities developing . Bassanio, a nice gelding 3YO out of my nice race mare Proud Portia (Proud Truth), $111,000 winner. This colt is sired by Power by Far, who defeated Artax, not a small task and is from his first crop to race. This is a wonderful looking 3YO of 2002 that is worth a look. He is currently in training and is at Philadelphia Park. E-Mail me for details, I'm very excited by him. This is a very nice breeding and could be a very good horse, he is great looking and the best part is you can't buy him at the sales. If he is anything like his mother, he will be honest, if you add the father, he will be honest and fast. I'm very optimistic about this one. All the training reports are good.

I also have a 3YO gelding named Praying Mantis that has good breeding and shows some promise. He actually has good cross-breeding and could be the peach in a 2-1 deal. All the training reports are good and he is going to Philly Park in January.

We hope to purchase 2 to 3 yearlings to supplement our stock and they will be available for partnerships.

Look at our "What's New" page for current partnerships.

St. George wins at Philly Park !!!
St. George a 4YO Bay Gelding owned in partnership by J. Nunan Racing and Bryn Haddon Stables won the 2nd race at Philly Park on May 18th, 2004. Although St. George has not been our most successful runner, he is maturing and becoming more a success at the windows and on the bottom line every race. He paid $18.20 to win by 5 lengths. He is trained by Dee Curry.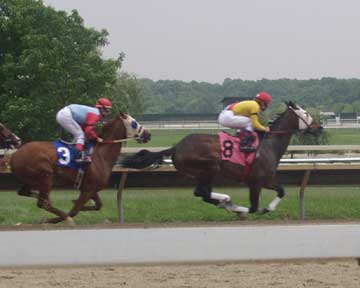 St. George was retired in 2004. Although he was not the success we hoped for, he paid his way. He is now a "show horse".
Kingtester, J. Nunan Racing investment!!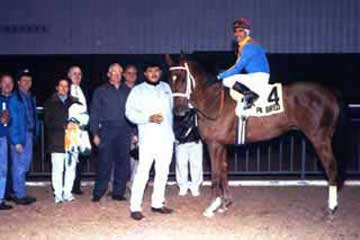 Kingtester won $249,000 running at Philadelphia Park and Penn National. He won the Iroquois Handicap and placed second in the Keystone Sprint Championship to Power by Far. He defeated such horses as Watchman's Warning and Leave it to Beezer. He is a perfect example of the fun you can have in a racing partnership with J. Nunan Racing.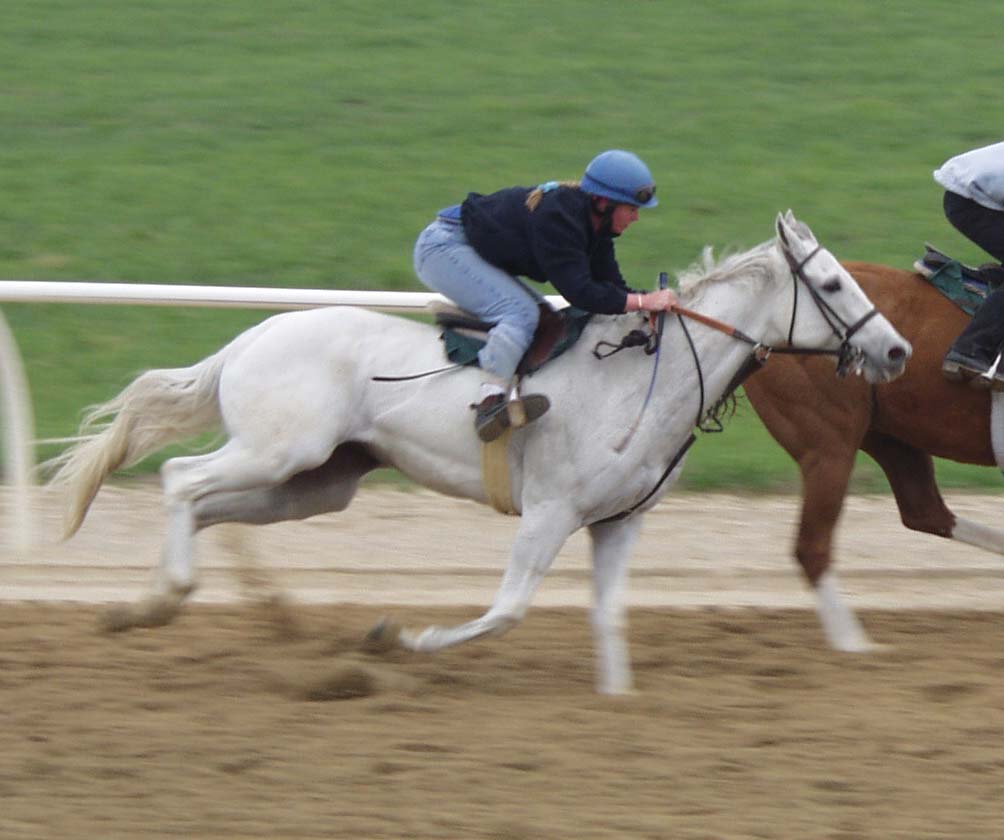 Another J. Nunan Racing Investment !!
This is "I'll Be Seeing You", winner of over $103,000. This was another J. Nunan Racing investment.
The average thoroughbred in training costs close to twenty thousand dollars per year in expenses. If you own your own horse and he fails to produce purse money at the track, you suffer financial hardships and often end up out of the game. With partnerships, you share the financial responsibilities, so instead of owning one horse, you can own up to 5 or 6 with only a percentage of each. Often, one good horse can pay for the others. That way, you enjoy being an owner, your passion and calling pays for itself, and you have a lot of fun.
Why Partnerships ?
Because it makes a lot of sense. Horse racing is a tough game and we don't want to make it any tougher than it has to be. The costs of racings a thoroughbred are prohibitive for the average person, but in partnership, the costs become realistic.
Why J. Nunan Racing ?
Because we know what we are doing. We've been doing this for years now and have survived the good and bad times that racing gives. If you go to a sale, trainers and touts will say that if you buy horse "X" you are going to make a lot of money. We are in the business to make a small amount of money, and that is more reasonable. We are in the business to stay in it and our goals are realistic. 90% of the people who go into the racing or breeding game are done and out within 1 1/2 years, but we are still here. We want our partners in for the long haul.
Partnership News
We currently have opportunities for several interests in horses for 2005.
This is a great opportunity to get in with a good program before slots become legal in PA. I feel confident I have some runners in the pipeline.
We have two new 2002 geldings, with partnerships available. They will be racing in 2005 as 3 YO's and are presently being syndicated by year'end. See the "What's New" page for the pictures.
Visit our "Contacts" page for information.
I can not emphasize enough that now is the time to get involved in PA racing. Slot legislation is going through and the prices for PA-Breds will go up drastically, those who are already involved will be pleasantly surprised. Those who aren't will be disappointed. It's a golden opportunity.